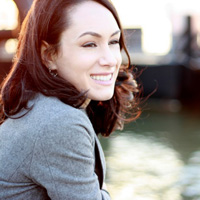 Tracy J. Wholf has been living and working in New York City since 2003. As much as she'd like to claim the title of being a "New Yorker," her Midwestern-roots will always trump the current address.
Growing up in Columbus, Ohio, Tracy spent the majority of her time honing her tap-dancing skills with aspirations of singing and dancing on Broadway.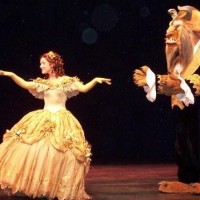 After graduating magna cum laude from Northwestern University, Tracy (and her parents) drove from Chicago to the Upper West Side of Manhattan to pursue that dream. She landed her first acting gig aboard The Disney Cruise Line, performing as several Disney characters. For the next eight years, Tracy chased Broadway; her favorite job sent her to Las Vegas for a year, singing and dancing in the show Mamma Mia! at the Mandalay Bay Resort and Casino.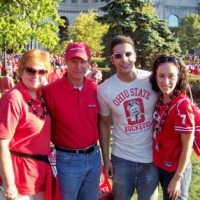 What never left her during that grueling time of auditioning was a love for all things Ohio State football and basketball. In her spare time, Tracy became an avid college sports blogger – writing for her hometown newspaper, 'The Columbus Dispatch' and other outlets. Sensing a need to legitimize her skills, she decided to attend Columbia University's Graduate School of Journalism, where she earned her master's degree.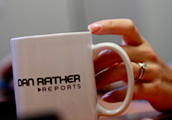 The idea was to go to grad school and get a job in sports journalism…but instead, she took a job with award-winning journalist Dan Rather at his news magazine show Dan Rather Reports. She was hired as a broadcast associate in 2011, but quickly ascended the producing ladder, becoming a research assistant, associate producer and full producer. Tracy's work with Dan Rather Reports took her from the Florida Everglades to the streets of Kabul, Afghanistan. Her work in Afghanistan was rewarded with a 2014 Emmy nomination for "Best Feature in a Television News Magazine" for a story about a human rights lawyer working to protect abused women and children in Kabul.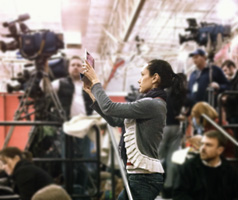 In the summer of 2013, the opportunity presented itself to join one of the most respected brands in journalism – PBS NewsHour. Looking to expand the program, Tracy was hired by WNET in New York City to help launch the new PBS NewsHour Weekend edition. As an associate producer, field producer and correspondent with the show, she has filmed and edited stories that have taken her as far as Hawaii and El Salvador to her current neighborhood of Hoboken, New Jersey. Not only did her work at WNET earn a 2014 National Headliner Award for 'Best Environmental Reporting,' Tracy was also named a 2015 Jefferson Fellow with the East-West Center in Hawaii.
Today, Tracy works as a freelance producer and most recently wrapped on season two of the critically-acclaimed National Geographic Channel documentary series Years of Living Dangerously. This series on climate change took Tracy to the Middle East with correspondent Arnold Schwarzenegger to report on the military's attempts to go green, and to Asia with correspondent Sigourney Weaver to look at how China will overcome its addiction to coal. Years of Living Dangerously is currently available on a variety of streaming services, or on NatGeo's onDemand channel.