Hey everyone!
Welcome to my website! It's taken a little time to design and fill the pages of this site, but I wanted to create a space where friends, family and colleagues could follow my work and see what I'm up to.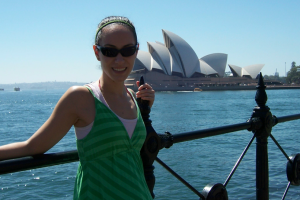 At the present moment, I'm still a novice with the site, but this is where I plan to post updates…and my first update is that I'm headed out of town! For the first time in YEARS, Eddie and I are packing our bags for a vacation!!! We'll be leaving for Australia on Friday, February 15th and we won't return until March 2nd. The last time I was able to visit Eddie's family in Sydney was in 2009, so this is a trip that's long overdue. We're really looking forward to spending time with his mom, dad and sister.
We'll spend the majority of our time in Sydney, but we are flying north to Queensland to stay at a secluded resort in the Great Barrier Reef called Hayman Island. So check-in here for photos and postings – I'm taking our new DSLR camera – and don't feel too jealous, this is literally our first 'real' vacation in four years; we're very excited for the trip!